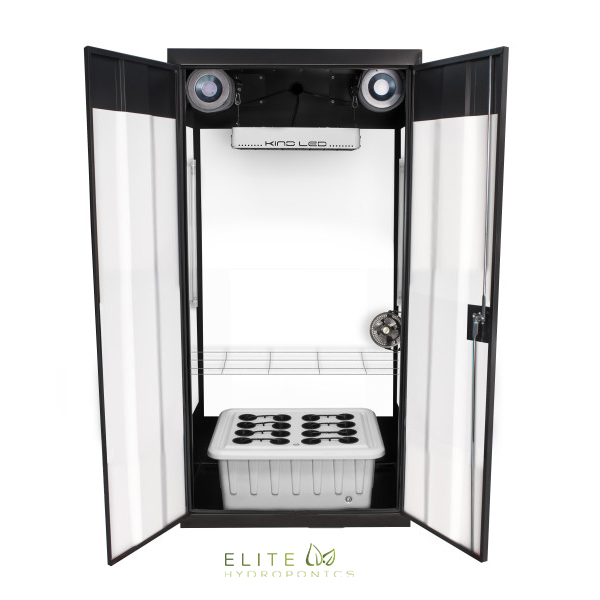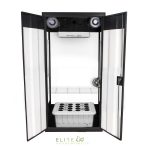 SuperFlower 3.0 LED Grow Cabinet
20
people are viewing this right now
Compare
Guaranteed safe & secure checkout
Description
Product Description – SuperFlower 3.0 LED Grow Cabinet
SuperFlower 3.0 LED Grow Cabinet
The SuperFlower 3.0 LED Grow Cabinet features a Kind LED grow light and is the perfect choice for those tall plants you want to grow indoors. Boasting the most vertical grow height in the SuperCloset cabinet line-up, the SuperFlower LED is a perfect addition to your established grow cabinet setup or as a standalone powerhouse for high yields.
Our unique SuperPonics system grows your plants up to 5x faster, bigger, and easier than any other grow box. Plus, dual custom carbon filters and locking doors mean your grow will be safe from pesky aromas and prying eyes. The SuperFlower LED stands at 36" wide, 24"d and 72" tall.
This award-winning, completely automated hydroponic grow system comes with every component needed to start growing today, a nine episode video tutorial, a "No Hassle" 3 year warranty, and complimentary 7 Day/Week Lifetime Customer, Technical, and Grow Support. Grow your own with this fully automated, fully assembled, quiet, safe, beautiful, air-tight, light-tight, locking, InfraCool, powder-coated stealth grow box, designed to fit perfectly in your home!
Our SuperFlower 3.0 LED Grow Cabinet truly takes the guesswork out of growing. We have created the ideal indoor gardening environment in which every key detail has already been considered and incorporated into our professional design. You will have the luxury of following these simple instructions to attain amazing results and yields of the highest quantity and quality yields – comparable to those of Master Growers!
Refresh your reservoir every 1 – 2 weeks
Add nutrients
Adjust your pH
Sit back and watch 'em grow
Single Chamber System
The SuperFlower LED is a single chamber led grow cabinet, allowing you to seamlessly and effortlessly move from seed to harvest in an extra large growing space, all within a single hydroponic led grow system.
The Vegetative/Flowering Chamber
Holds up to 16 plants and is ideal for personal use or the small commercial grower!
Fully automated SuperPonics system that grows your plants up to 5x faster, bigger, and easier than traditional methods by combining Top Feed, Deep Water Culture, Bubble and Aeroponics. Reservoir can hold up to 15 gallons of nutrient rich water and is incredibly easy to maintain.
Features a 12 bandwidth full spectrum 3 watt Kind LED K3 – L450 Grow Light on adjustable yo-yo's for full light control and maximum penetration
Features T-5 Supplemental Side Lighting – the perfect cool spectrum supplement to your overhead LED light. Compliment your spectrum, increase your under canopy production, and fill out your fruits and flowers.
Activated carbon scrubber for complete air filtration
Adjustable internal circulation Fan for "4 Corner" air distribution
Anti-mold reflective, removable, and adjustable panels provide optimal light distribution and cleanliness.
Fully automated controls, with hygrometer, on back of unit, not front, to retain clean cabinet appearance.
"No corner plants left alone" –  only our cabinets are designed with real cross airflow, properly air-cooled lights, and Internal Circulation Fan.
Cutting edge watering system provides no clogged drippers, constant cleaning, or random dead plants.
Strongest roots and plant structure possible. Leave for days without worry. See reviews!
Just one plug into your wall, configured for standard 110v grids.
Reinforced lock and key
Up to 20% less energy usage and power surges, and operate more efficiently than other systems.
Yield up to 30% more growth with exclusive Net Trellis and unique auto watering method.
System also accommodates soil
Included Components
12 Bandwidth Full Spectrum 3 Watt Kind LED Grow Light (450w Equivalent)
This compact led grow light system is ideal for the SuperFlower growing space. Complete and ready to hang, this LED light has a color spectrum that's ideal for general indoor growing, doesn't produce excessive heat, and boasts low energy consumption. This LED Grow Light is on an adjustable Yo-Yo System making it extremely easy to adjust the height of your light. This ensures zero plant stretch and the greatest light penetration, which will result in maximum photosynthesis.
T-5 Supplemental Side Lighting
The perfect cool spectrum compliment to your overhead warm spectrum light. Complete your spectrum, increase your under canopy production, and fill out your fruits and flowers.
16 Plant SuperPonics System
The SuperPonics 16 combines automated top feed and Deep Water Culture, assuring you the best, easiest, fastest, and safest grows over any other method. SuperPonics is the fusion of multiple proven hydroponic methods into a single system, creating unparalleled yields in quality and total. These systems are incredibly easy to use and are fully automated. SuperPonic systems grow up to 2-5X faster and bigger than any single traditional hydroponic method. SuperPonic systems are also safer due to the fact that if one of the methods goes out for any reason (air pump or water pump) your plants will still survive and thrive.
Trellis System
A trellising system increases your yields up to 30%, as well as greatly maximizing your quality as well. Trellises help support, partition, and train your plants creating equal spacing from each other and assist in the formation of a nice, even canopy, ensuring even light distribution and absorption for each and every plant.
Eco Air 4-Port Air Pump
Eco Air series pumps are very quiet, yet extremely powerful. This strong and durable pump is widely used to provide oxygen in hydroponic systems and is convenient to operate without oil or noise.
185 Gallon Per Hour Water Pump
Our 185 GPH (gallon per hour) pump is the heart and flow of our unique hydroponic systems. Its powerful, oil free high magnetic rotor, ceramic shaft, and bearing insures reliability and quiet operation. Plug it into its designated timer and you have your own personal robotic gardener making certain that your plants never go thirsty again.
Adjustable Internal Circulation Fan
Another reason the SuperCloset is the top performing grow box on the market is because we maximize airflow. This all important feature, which is strangely absent in other systems, recreates the wind that passes through a blossoming outdoor garden. The easily adjusted height and tilt angle allow you to always have this gentle breeze blowing the ideal height above your plant's canopy.
Dual Industrial Grade Carbon Filters
Basil? What basil? Our seamlessly designed carbon filters eliminate all odor emanating from inside all of our products. They last up to two years before needing replacement and ensures the air around your cabinet is as clean as your corporate office. Cleaning is easy!
Digital Thermometer / Hygrometer
This handy device gives you the ability to make certain that you are providing your plants with their ideal environment. Effectively measures indoor/outdoor temperature and indoor humidity. Stores the min/max values of your temperature and humidity. Switch between °C and °F. Clock function. 12/24 hour mode switch. Includes a waterproof temperature probe.
TDS Meter
Is your water source suitable for hydroponics? Did you add the appropriate amount of nutrients? Find out quickly and easily with this digital Total Dissolved Solids Meter. The TDS-EZ has a large and easy-to-read LCD screen. The translucent blue housing is strong and durable and includes a convenient color chart explaining TDS values related to water purity.
General Hydroponics pH Control Kit
Is your pH off today? Well, it won't be if you use our pH Control Kit made by General Hydroponics. The kit contains 8 ounces of pH Up, 8 ounces of pH Down, 1 ounce indicator and vial. Each system comes with this kit that keeps your reservoir contents in perfect harmony.
Analog Single Timer
Our light timer gives you the power to control the sunrise and sunset automatically, allowing you to control the season, and ultimately dictate whether your plants vegetate or produce beautiful fruits and flowers. Your Feeding Timer allow you to water your plants evenly and regularly without lifting a finger. Say hello to stress free vacations!
10 Socket Industrial Power Strip
Power surges and lightning strikes are not the only things that can damage your home workshop equipment. Simply switching your workshop tools on and off can create electrical imbalances that could cause cumulative, permanent damage to your valuable equipment. The Belkin Industrial Power Strip provides clean, safe, and balanced power from 10 grounded outlets.
GFCI Shock Buster
Safety first! That's our mantra here at SuperCloset, and why we include a GFCI plug adapter with every one of our products. Extremely easy to operate and a must have for eliminating electronic malfunctions that may occur whenever water is adjacent to electrical components.
Rock Wool Cubes
What is rock wool? Rock wool is spun granite and wicks like nothing you have ever seen before. Roots find a nice comfortable healthy home in our cubes and once they get their legs, they easily poke through to find, and latch onto the surrounding course, porous clay rocks to start a healthy and stable foundation.
Clay Grow Rocks
The simple addition of this reusable secondary medium translates into more robust plants that will ultimately lead you to greater yields. By giving your roots a course, porous, and absorbent material through which to weave, you are providing a much more solid and stable foundation, allowing your plant to grow thicker, bigger, and stronger.
Technaflora Recipe for Success Nutrient Bundle Starter Kit
The Recipe For Success Starter Kit is ideal for both the new and experienced gardener alike. This self-contained package of exceptional products includes everything required to set you on the right course for gardening success. The Recipe For Success Starter Kit consists of B.C. Bloom, B.C. Boost, B.C. Grow, Thrive Alive B-1 Red, Thrive Alive B-1 Green, Awesome Blossoms, Rootech Cloning Gel, MagiCal, SugarDaddy, ROOT 66, and the famous Recipe For Success mixing chart. The mixing chart shows you how to successfully use the nutrients in combination, and for maximum benefit, from the cutting stages through to the flowering stages.
SuperCloset Instructional DVD
This easy to follow instructional DVD will show you step by step how to correctly set up your SuperCloset and prepare you to get growing the day that your SuperCloset arrives!
There are no question found.