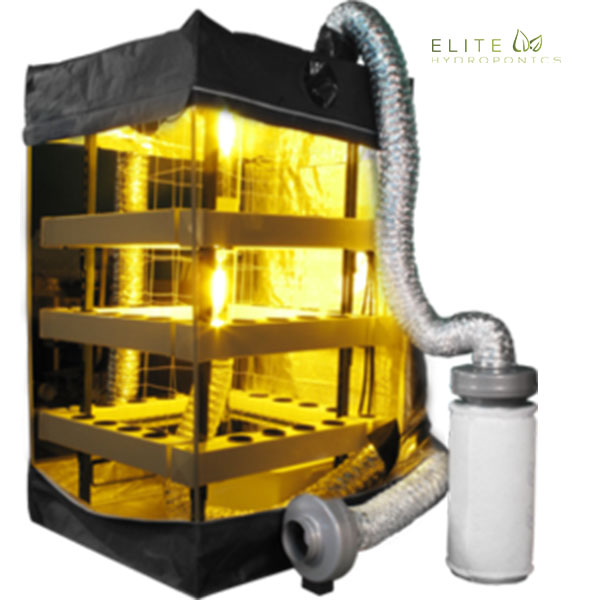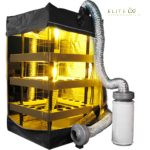 Buddha Box – 48 Plant Hydroponic Grow Tent
28
people are viewing this right now
Compare
Guaranteed safe & secure checkout
Description
Product Description
"The Buddha Box grow tent exterior is a 48 plant hydroponic system that can produce tons of hydroponic yield all year long! The Buddha Box is not only available in the standard format, but it is also available with a tent cover that makes it even better! Now you can grow fresh plants and herbs all year long with this amazing hydroponics growing chamber! You can buy the Buddha Box without the tent feature by searching our online catalog. Although, we do highly recommend the tent. Shop now, buy securely."
Buddha Box – Grow 48 Plants Vertically Up to 5 Feet!
Help plants grow 2 to 5 times bigger than you can with other systems in this large horizontal grow room setup. The Buddha Box comes fully automated and helps growers to easily get multiples in terms of yield, with a vertical growing system that can pay off big with every plant cycle.
Note: upgrades available for the Buddha Box are for extra growth and not critical components of your hydroponic unit. The Buddha Box comes with everything you need except for seeds or seedlings.
The Buddha Box setup uses something called Verticalponics in addition to our popular Superponics automated watering system where growers can effectively quadruple the kinds of yields available for a traditional grow box setup. The Verticalponics vertical system lets plants grow on different levels to provide a truly amazing harvest.
Using the 5 x 5 area, you can get much more growing space and turn over a lot more volume in plant cycles. The Superponics automated technology adds to the innovation of this system – with the large grow area setup and multiple levels, you can multiply your results many times over, with quick and easy installation and maintenance.
5'W x 5'D x 7'H
Grows 44 pounds of dried plant matter per year!
Benefit from a super harvest with this 5 x 5 grow room set up that comes fully automated and ready to use!
The Verticalponics system allows plants to grow on different tiers, while orienting them correctly for light absorption. Use an available trellis to manipulate plants and keep them growing in the right direction. Trellis also supports your plants in the flowering stage – plants grow up to 3 feet tall or more, with great light distribution all the way through the grow area. All of this leads to an amazing result, where plants get all of the light and space they need to thrive.
This system comes with dimmable Lumatek lights and a unique air cooling system that helps plants get fresh air and light for healthy outcomes. The Buddha Grow Box can hold up to 48 plants, much more than you could grow with a traditional horizontal system.
You can use the trellis that comes with the Buddha Box to tie plants in any given direction – use available instructions to promote the best light absorption and overall development for plants. In 7 to 8 weeks, your cloned plants should grow to maturity. These cycles can go even quicker with the available carbon dioxide upgrade package.
Buyers also get an 80w air pump for air handling for this large Buddha Box automated watering system.
With our exclusive water handling system, growers don't have to do the labor-intensive work of refilling a complex reservoir when it's time to change water. The 10 gallon backup reservoir allows for easy filling and draining and everything is set to timers to provide more customized irrigation.
Here are some of the features you get in your Buddha Box design:
Grow box roof provides weight capacity of 100 pounds

Powder coated frame helps this grow box design stand up to the elements

Reflective interior panels help with light absorption for plants

Insulated and thermally protected grow fabric helps retain heat

Non-toxic materials mean no off gassing to harm plants, animals or people

Thick membranes and quality zippers help this product last

With the Buddha Box system of movable roof cross members, growers can adjust pieces and set up their grow room for custom results

Intake/exhaust ports are built-in at the right level to effectively air cool the grow lights system

Easy to use fan and vent attachments

Waterproof floor helps with avoiding masses
In addition to these features, here is more of how you can benefit from the design of the Buddha Box:
Automated system for easy use

Turnkey system for extra security

Light proof and simple system also designed for privacy

In-line vortex fans help with air handling

Internal circulation fans handle air inside the box

Interior reflective materials help distribute light

Light sealed environment helps enhance dark cycles

Carbon filter system helps illuminate orders in the grow space

Optional carbon dioxide system can help plants grow 30 to 50% bigger

Growers also get these extras:

Nutrient materials

pH testing kit

Internal fans

TDS meter

Rock wool materials

Clay rocks

2 20 gallon reservoirs

Eco 633 water pump and Eco 5 air pump

6" in-line vortex fans
There is a host of added features that are included with the Buddha Box. The Buddha Box also features:

1. Fully automated
2. Increased security with turnkey system
3. Discrete, simple, clean, and lightproof
4. Added air flow with inline vortex fans
5. Attach-anywhere internal circulation fans for added airflow
6. Reflective coating on the interior of the tent for added light distribution
7. A completely controlled lighting environment. Complete blackout is crucial for plants in the dark period
8. An industrial grade carbon based air filtration system, effectively reducing noise and odor
9. The ability to add an optional Co2 system. See you harvests increase by 30%-50%!

In additional to all these benefits, the Buddha Box comes with everything you need to get started:

• Nutrients included
• PH test kit
• Internal circulation fans for added airflow
• TDS meter
• Rockwool cubes
• Clay rocks
• Two 20 gallon reservoirs
• Eco 633 water pump
• Eco commercial 5 air pump
• Two 6" in line vortex fans
• Two 6" In Line Vortex Fans
Your Buddha Box setup also includes two 600w full spectrum HPS bulbs along with high-grade digital ballasts dimming features – adjust your wattage to different settings including 250, 360, 400 or 600w. In upgrade provides maximal lighting with two 1000w lights.
Although all of our products represent top options for growing more effective hydroponic yields, the Buddha Box is the cream of the crop – use this large system to get incredible amounts of plant material easily and quickly.
There are no question found.