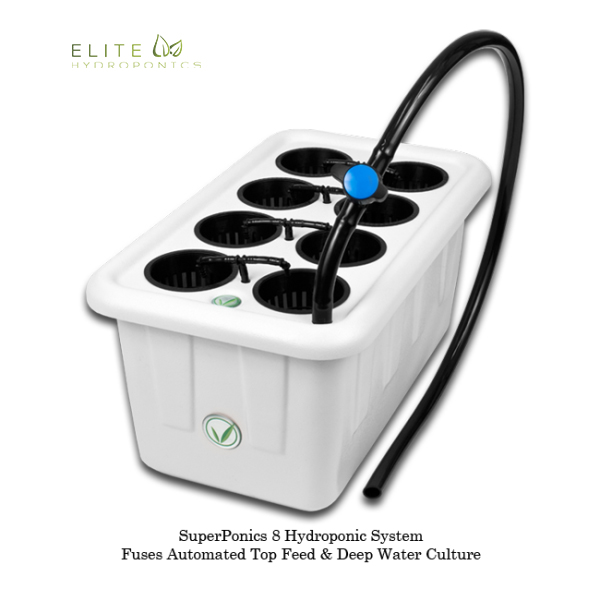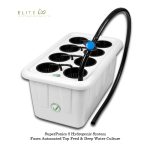 SuperPonics 8 Hydroponic Grow System
22
people are viewing this right now
Compare
Guaranteed safe & secure checkout
Description
SuperPonics 8 Hydroponic Grow System
The famous fully automated SuperPonics 8-Plant Hydroponic Grow System Complete grows your plants up to 5x faster, safer, and easier than any traditional hydroponic system. SuperPonics Hydroponic Grow System technology fuses the best of hydroponics by combining automated top feeding, deep water culture, and bubble and AeroPonics..
The SuperPonics 8-Plant Hydroponic Grow System Complete grows faster than any single method of hydroponics and more safely due to the fact that there are always two independent hydroponic grow systems operating at the same time. Even if one system malfunctions, your plants will still thrive! Growing your plants with both Top Feed Watering and Bottom Feed oxygenation will create extremely happy plants with rapid growth rates and HUGE yields.
Included Components
SuperPonic 8 Hydroponic Grow System
Your fully automated SuperPonics 8-Plant Hydroponic Grow System will grow faster than any single method of hydroponics. This hydroponic system combines both top feed watering and bottom feed oxygenation causing your plants to thrive and grow at rates you truly never thought possible. You are also adding safety to your grows because if either method fails, your plants will still be getting more love than they do from competitors' single method systems.
The custom molded reservoir and lid are UV stable and easy to clean. Plus, it comes fully assembled – just plug in and add water!
8 Net Cups
These 3″ cups give you the ability to nest up to 8 plants!
Eco Air 2 Air Pump & High Output Air Stones
Eco Air series pumps are very quiet, yet extremely powerful. This strong and durable pump is widely used to provide oxygen in hydroponic systems and they are convenient to operate without oil or noise.
132 Gallon Per Hour Water Pump
Our 132 GPH (gallon per hour) pump is the heart and flow of our unique hydroponic systems. Its powerful, oil free high magnetic rotor, ceramic shaft, and bearing ensures reliability and quiet operation. Plug it into its designated timer and you have your own personal robotic gardener making certain that your plants never go thirsty again.
Analog Single Timer
Our light timer gives you the power to control the sunrise and sunset automatically, allowing you to control the season, and ultimately dictate whether your plants vegetate or produce beautiful fruits and flowers. Your Feeding Timer allow you to water your plants evenly and regularly without lifting a finger. Say hello to stress free vacations!
SuperPonic Upgrade Package
TechnaFlora Nutrient Bundle Recipe For Success Starter Kit
The Recipe For Success Starter Kit is ideal for both the new and experienced gardener alike. This self-contained package of exceptional products includes everything required to set you on the right course for gardening success. The Recipe For Success Starter Kit consists of B.C. Bloom, B.C. Boost, B.C. Grow, Thrive Alive B-1 Red, Thrive Alive B-1 Green, Awesome Blossoms, Rootech Cloning Gel, MagiCal, SugarDaddy, ROOT 66, and the famous Recipe For Success mixing chart. The mixing chart shows you how to successfully use the nutrients in combination, and for maximum benefit, from the cutting stages through to the flowering stages.
General Hydroponics pH Control Kit
Is your pH off today? Well, it won't be if you use our pH Control Kit made by General Hydroponics. The kit contains 8 ounces of pH Up, 8 ounces of pH Down, 1 ounce indicator and vial. Each system comes with this kit that keeps your reservoir contents in perfect harmony.
TDS Meter
Is your water source suitable for hydroponics? Did you add the appropriate amount of nutrients? Find out quickly and easily with this digital Total Dissolved Solids Meter. The TDS-EZ has a large and easy-to-read LCD screen. The translucent blue housing is strong and durable and includes a convenient color chart explaining TDS values related to water purity.
Rock Wool Cubes
What is rock wool? Rock wool is spun granite and wicks like nothing you have ever seen before. Roots find a nice comfortable healthy home in our cubes and once they get their legs, they easily poke through to find, and latch onto the surrounding course, porous clay rocks to start a healthy and stable foundation.
Clay Grow Rocks
The simple addition of this reusable secondary medium translates into more robust plants that will ultimately lead you to greater yields. By giving your roots a course, porous, and absorbent material through which to weave, you are providing a much more solid and stable foundation, allowing your plant to grow thicker, bigger, and stronger.
There are no question found.