SuperCloset Hydroponics Review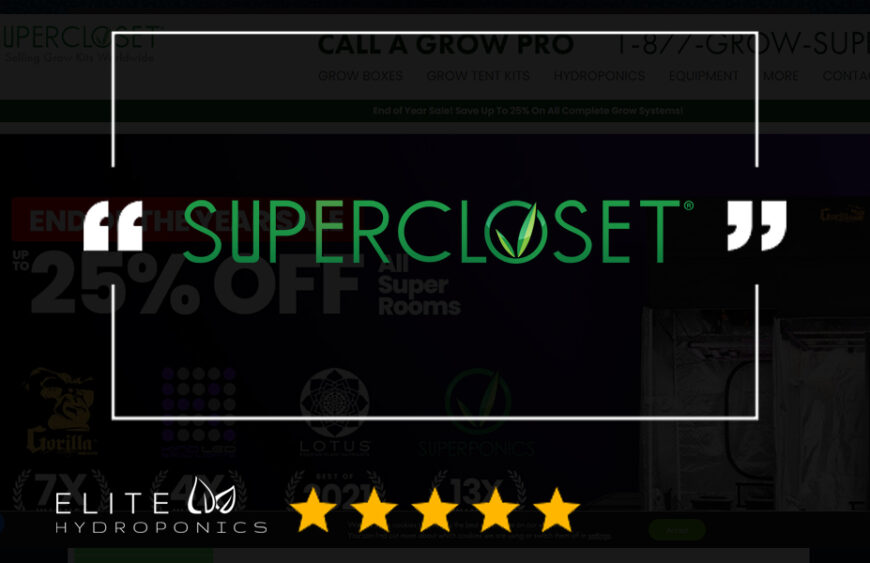 Quick Review Summary on SuperCloset Grow Kits
Short on time? – This quick intro covers the nuts and bolts of our SuperCloset Hydroponics Review
The SuperCloset Hydroponic is one of the best hydroponic systems I've ever used. It is so easy to set up and use – even for a beginner. The instructions are clear and concise, and all parts come clearly marked and labeled for assembly. The LED grow lighting system is super efficient, and the rest of the system handles itself as far as maintenance is concerned. I had my garden up and running in no time, and it has been producing luscious, abundant crops ever since. It is definitely worth the investment and perfect for serious gardeners and hobbyists alike.
In this review, we will take a look at all of the features of this amazing system and why it is fast becoming one of the most popular hydroponic systems on the market.
What You Need to Know Before Pulling Out Your Wallet for SuperCloset
About SuperCloset Hydroponics
Some of the best indoor hydroponic grow cabinets and vertical growth systems can be found at SuperCloset. Founded in San Francisco, SuperCloset has a reputation for fusing creative and inventive hydroponic setups, with cutting-edge techniques for growing a wide range of plants indoors.
SuperCloset was started by CEO Kip Andersen in his garage in 2002, and has since grown to dominate the hydroponic cabinet and indoor gardening markets. Their completely automated SuperPonics and VerticalPonics systems rank among some of the best setups the market has to offer.
Why Considering SuperCloset Hydroponic Systems Makes Sense
A garden within your home always brings a sense of delight when you can grow and nurture a small piece of nature. Hydroponic systems are fast taking the gardening world by storm and for individuals who wish to set up shop inside their own home, the SuperCloset Hydroponic system is the ideal solution. 
The SuperCloset Hydroponic system is compact, yet highly efficient. It stands only 4 feet tall and measures 2.5 feet wide, making it a perfect addition to any closet within the home. The system is made of a heavy-duty steel frame and includes three different nutrient trays which can easily hold up to six large plants. 
The frame is welded together, providing a case to protect the system from damage or leaking. The large fan and powerful pump are situated inside the frame, both allowing the system to consistently produce strong airflow and keep nutrients moving.
A Six-Point Growing System
The SuperCloset Hydroponic system is also equipped with a six-point growing system. This feature allows users to choose from various levels of lighting, nutrients, and ventilation to ensure that their plants receive the perfect amount of care. The unit also features a built-in white reflective surface, which helps to diffuse light evenly to each individual tray and allows for more efficient growth. With these features combined, the SuperCloset Hydroponic system is truly a one-stop shop for taking care of your plants.
A Surprisingly Easy Setup with Easy-to-Follow Instructions
Setting up the SuperCloset Hydroponic system is surprisingly easy. Users simply need to assemble the frame and peg the nutrient trays into place. Assembling the system should only take around 30 minutes, making it great for first-time users. 
Additionally, the unit comes with a detailed instruction manual which will quickly guide users through the setup process. After your system is set up, connecting your system to the water reservoir is easy, just requiring a few rounds to connect the system to a hose or garden tap.
Customizable Nutrient Trays for Various Root Systems
The nutrient trays that come with the SuperCloset Hydroponic system can be customized to fit a variety of root systems. Therefore, it is suitable for growing almost any type of plant with relative ease. Furthermore, the trays also come with extended drainage systems, so any excess nutrient solution is quickly swept away and does not damage the actual system.
The SuperCloset Hydroponic system is also designed to be energy efficient. The fan, light, and pump are all designed to draw minimal power, so that power bills are kept to a minimum. Furthermore, the built-in filtration system helps to reduce odors and bacterial growth, so there is no need to install any additional filters or diffusers.
Overall, the SuperCloset Hydroponic system offers an amazing solution for anyone looking to start their own home-based hydroponic garden. It is easy to assemble, energy efficient, and allows for custom growth solutions. All of these features combined make the SuperCloset Hydroponic system one of the best hydroponic systems available on the market.
A Review of SuperCloset Hydroponics Top 3 Products
1. SuperBox LED Smart Grow Box Review – from SuperCloset Hydroponics
Welcome to the world of SuperBox LED Smart Grow Box. SuperBox is the latest in smart garden technology, allowing you to easily grow your own fruits, vegetables, and herbs in one convenient and stylish unit. SuperBox is designed with energy-efficient LED lighting, advanced climate control, soil monitoring, and a powerful 360˚ ventilation system to create the ideal environment and ensure a successful harvest. With a SuperBox, you can grow whatever you want, whenever you want, and with no hassle.
What Makes the SuperBox Unique?
The SuperBox has several unique components that make it stand out from other grow boxes. First, it has an advanced LED lighting system to ensure your plants get the optimal light spectrum for photosynthesis. Not only is this energy-efficient, but the adjustable output allows you to customize your lighting needs.
Second, the SuperBox has smart climate control capabilities. The unit has built-in sensors to monitor the environment, so you can optimize the temperature and humidity during various growth stages. The sleek design also features an integrated 360˚ ventilation system to provide even more control over the climate.
Automated Soil Monitoring System
Third, the SuperBox features an automated soil monitoring system. The system checks soil moisture, pH levels, and nutrients to ensure your plants get the proper care needed for optimal growth. With the soil monitoring system, you don't have to guess when it's time to water, feed, or check temperature and humidity.
User-Friendly App for Remote Monitoring and Control
Lastly, the SuperBox has an intuitive, user-friendly app to allow for remote monitoring and control. With the app, you can monitor and adjust the air temperature, humidity, soil moisture, and nutrient levels all from your phone or tablet. You can even get custom notifications from the app when it's time to check something or provide your plants with some extra attention.
Final Review of the SuperBox LED Smart Grow Box from SuperCloset Hydroponics
If you are looking for a simple and convenient way to grow your own fruits, vegetables, and herbs, then the SuperBox LED Smart Grow Box is a great option. With its energy-efficient LED lighting, advanced climate control, Soil monitoring, and 360˚ ventilation system, you can create the perfect living conditions for your plants. Plus, the intuitive app makes it easy to monitor and adjust settings remotely. The SuperBox is the perfect choice for those looking for an efficient and stylish way to grow their own food.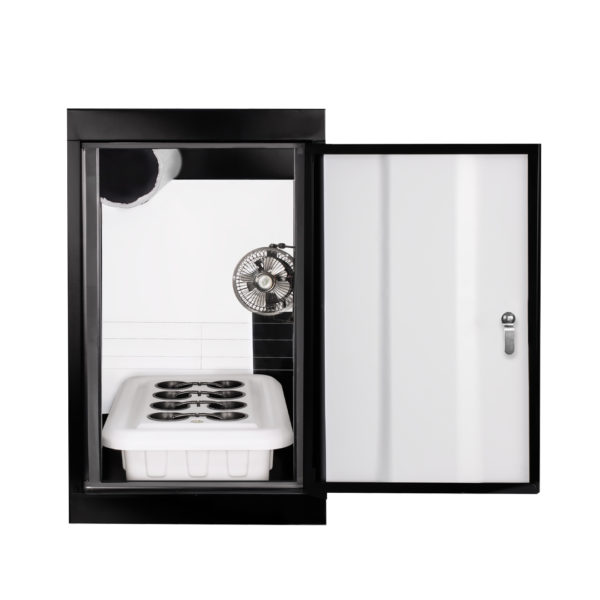 SuperBox LED Hydroponic Grow Box 18" x 24" x 30"
The SuperBox LED Smart Grow Box is the most compact seed-to-harvest Grow Box in the SuperCloset line-up. Featuring Smart-Tech for control of your grow light or SuperPonic system, this tiny, yet complete grow box packs a big punch and is perfect for growers of any skill level in tight spaces. With the addition of dual X40 Flower LED Grow Lights, the updated LED SuperBox gives you increased growing height, less heat, and larger, high-quality yields. Available in Hydroponic and Soil configurations.
2. The Supercloset Deluxe Smart Grow Closet: A Comprehensive Review on Maximizing Growth and Efficiency
The Supercloset Deluxe Smart Grow Closet offers an unparalleled level of convenience and flexibility. With customizable temperature and humidity settings, heavy–duty material construction, and the latest LED grow lighting in the series, the Supercloset Deluxe Smart Grow Closet is among the most comprehensive hydroponic systems available. 
This review provides an overview of the features of the Supercloset Deluxe Smart Grow Closet, and examines how best to utilize its specific advantages to maximize growth and efficiency.
Temperature and Humidity Control
The Supercloset Deluxe Smart Grow Closet is a temperature and humidity-controlled indoor-grow system that caters to the needs of hydroponic gardeners and cannabis cultivators. The enclosed, insulated design of the closet uses well-ventilated doors and a fan system to keep air moving at all times. Its vertical, off-the-ground construction allows for a large area of cultivation in an efficient use of space. The closet is equipped with user-friendly control switches for the adjustable temperature and humidity settings. And an included industrial-grade metal frame ensures stability and safety for even the heaviest plants.
Energy-Efficient LED Grow Lighting System
At the heart of the Supercloset Deluxe Smart Grow Closet is its powerful, energy-efficient LED grow lighting system. The lighting includes high-output spectrum LEDs for concentrated growth, including blue and red wavelengths for optimal photosynthesis. 
The system is also equipped with dimmable control switches to adjust lighting level and to customize the type of growth dynamics best suited to the plant's needs. A lamp timer setting increases or decreases the period of light exposure while an integrated photocell timer automatically turns off the lights and reduces energy consumption when the desired lighting conditions are met.
Growth Optimization Features
The Supercloset Deluxe Smart Grow Closet also offers a variety of other features designed to enhance the grow environment. An air-cooled ventilation system and built-in active carbon filter keep the air temperature and humidity at optimal levels. 
An inner-reflector is equipped to guarantee the uniform distribution of light and to maximize the lamp's performance. 
The closet also includes an exhaust port for additional ventilation and for the exhaust of pollutants and smells. Finally, the height-adjustable shelves allow for the accommodation of multiple grow trays — making it easy to fill the closet with different species of plants and taking full advantage of the space.
Comprehensive User Manual
In order to maximize the yield and efficiency of the Supercloset Deluxe Smart Grow Closet, proper setup and management is key. Effective setup begins with a thorough review of the user manual, which provides detailed information on the closet's functions, controls, and capabilities. 
Supercloset Deluxe Smart Grow Closet: Final Review
Ultimately, the Supercloset Deluxe Smart Grow Closet is an ideal solution for those looking to maximize their growing efficiency and ease of use. With its customizable temperature and humidity settings and powerful LED growing system, the closet facilitates the process of cultivating plants in the home environment. 
From its insulated, ventilated design to its adjustable shelves and air-cooled ventilation system, the Supercloset Deluxe Smart Grow Closet offers superior convenience, protection, and energy efficiency. Gardeners and cannabis cultivators alike can have assurance in the quality and performance of this closet, guaranteed to maximize growth and efficiency for years to come.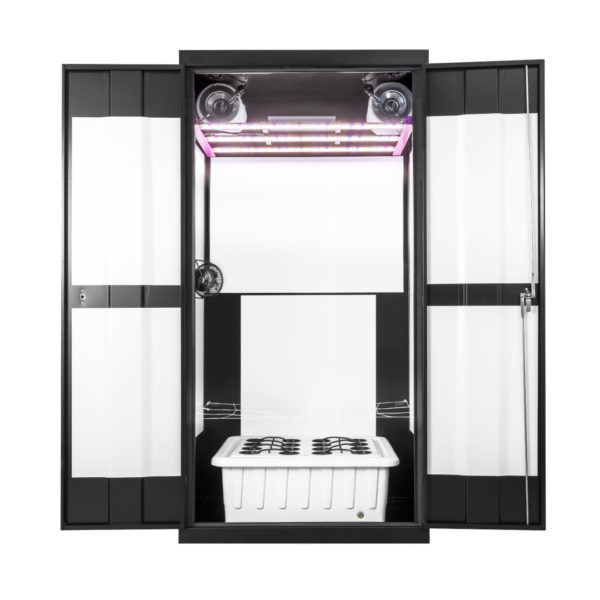 SuperFlower Hydroponic Grow Box 36" x 24" x 72"
The SuperFlower Smart Grow Closet is the perfect choice for those tall plants you want to grow indoors. This Smart Grow Closet boasts the most available grow height in the SuperCloset lineup and now features app-enabled smart controls!
3. SuperTrinity Smart Grow Closet System Review
When it comes to hydroponic growing, having a perfect environment for optimal growth is key. The SuperTrinity Smart Grow Closet System is the ideal product for creating a controlled and efficient indoor growing environment. This ultimate hydroponic and aeroponic system is complete with advanced computer-controlled environmental and lighting components, meaning you get a fully automated and customizable growing experience.
Spacious, Humidity and Temperature-controlled Enclosure
The Smart Grow Closet System can accommodate up to four plants in its roomy enclosure. The system's interior is kept cool and humidity controlled with energy-efficient LED lighting, temperature control, and efficient water recirculation. With an integrated CO2 monitor and timer, it's easy to regulate air quality and get the most out of your plants.
Easy to Set up and Install
The SuperTrinity is easy to set up and start using. It comes with detailed instructions and a user-friendly mobile app that can be used from your smartphone. The app's intuitive touchscreen design makes it simple to control lighting, watering, temperature, and ventilation with just a few taps. This is ideal for busy gardeners who don't have time to constantly monitor their indoor garden.
Customizable Growing Environments
Thanks to online research and programming, the SuperTrinity Smart Grow Closet System has been designed to provide a tailored growing environment for any type of plant. The advanced sensors and integrated computer can also automatically adjust the system's environmental parameters to create a comfortable and efficient setup. This means that you can pick and choose the optimal settings for the type of plants you're growing and let the SuperTrinity take care of the rest!
SuperTrinity Smart Grow Closet System Review: Final Thoughts
The SuperTrinity Smart Grow Closet System is perfect for hobbyists, medical growers, and anyone in need of a high-performance indoor grow system. With its unbeatable convenience and user-friendly electronic interface, you can quickly and easily achieve the ideal growth conditions for any type of plant. And because it's built to last, you won't have to worry about investing in another grow system ever again.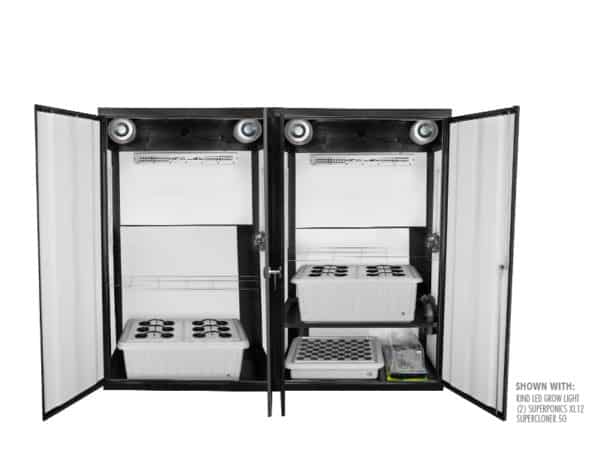 SuperTrinity Hydroponic Grow Box
The SuperTrinity Smart Grow Closet System is the Cadillac of grow closets, taking the already massive size of the SuperNova grow closet and doubling it. This three chamber, dual cabinet system is designed to offer a perpetual cycle grow with maximum output.
SuperCloset Hydroponic Review – Are Their Grow Boxes Worth It?
For a good number of years, I've been cultivating a wide range of plants indoors.
However, the thought of constructing my very own hydroponics system has always left me feeling anxious and overwhelmed.
The SuperCloset system alleviates a lot of worry regarding the complexity of setup, costs, ongoing maintenance, and more, offering a comprehensive system that enables hydroponic cultivation without requiring the user to figure out and set up the system on their own.
SuperCloset Hydroponics Review & Rating